Royal Rumanian Army
In cooperation with Bradley L. Hunter
Mobilized Cavalry Brigade, Type II
22 June 1941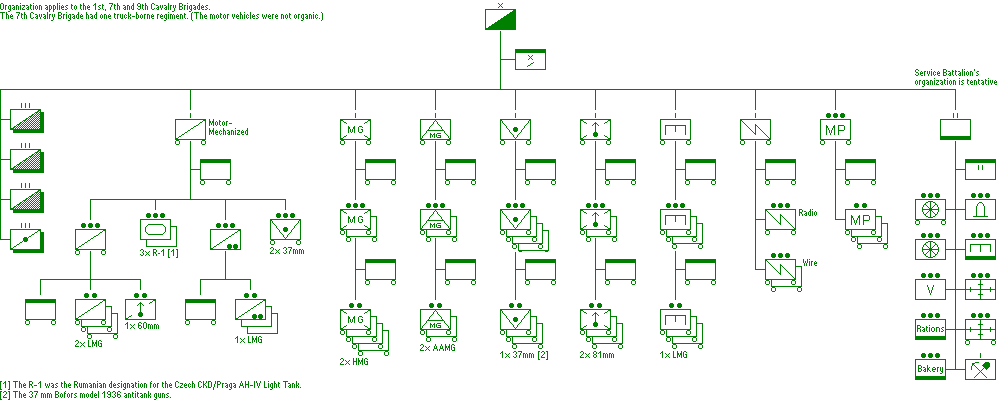 1941 Cavalry Brigades, Type II
1 Cavalry Brigade [1]
BG Marin Manafu
11 Calarasi Regiment
1 Rosiori Regiment
2 Rosiori Regiment
1 Calareata Artillery Regiment
Other units 41
7 Cavalry Brigade
COL Gheorghe Savoiu
9th Calarasi Regiment (COL Anibal Dobjanski) [2]
11th Rosiori Regiment (motorized) (COL Alexandru Plesoianu) [3]
12th Rosiori Regiment (COL Dumitru Luca)
5th Horse Artillery Regiment (LTC Mircea Boboc)
Other units 45
9 Cavalry Brigade [1]
BG Traian Cocorascu
3 Rosiori Regiment
5 Rosiori Regiment
13 Calarasi Regiment
6 Calareata Artillery Regiment
Other units 46
[1] Not mobilized at this time.
[2] Replaced by 06.07.41 on LTC Ioan Lazarescu.

[3] The 11th Cavalry Regiment was officially horse mounted, but in fact was truck-borne with a very colorful assortment of motor vehicles. A bunten Wagenstand according to Ion Emilian, an officer of this unit. From: Ion Valeriu Emilian, Der Phantastiche Ritt, Verlag K.W. Schütz, Preussisch Oldendorf, 1977.